Morpho-physiological responses of Bos indicus, Bos taurus and crossbred weaned heifers to seasonal variations
Resumo
Beef cattle kept in extensive systems are constantly exposed to the effects of the climate. In tropical and intertropical regions, the reproductive management of Bos taurus animals with B. indicus animals is an alternative for zootechnical improvement. The objective was to evaluate morphophysiological characteristics of heat adaptation of beef heifers on pasture. For this, fifty-four animals from four distinct genetic groups: (1) Nellore, (2) Senepol, (3) Angus x Nellore and (4) ¼ Brahman x ¼ Nellore x ½ Senepol (Tri-cross), with six months-old, were evaluated during the summer and autumn seasons of 2016. The morphological characteristics of the coat (length, diameter, thickness, density and number of hairs and coat color) and physiological (skin, hair and rectal temperature; sweat rate; respiratory and heart rate) were evaluated. The environment was evaluated using the temperature and humidity index, black globe temperature, humidity index and radiation thermal load. We observed that the production environment presented thermal discomfort for the animals. Thus, the animals' rectal temperature differed between seasons. All groups studied showed some adaptive characteristic to the tropical environment. Angus x Nellore heifers had the highest values for the morphological measures in the months evaluated, coinciding with thermal comfort indexes above those considered comfortable for cattle and the lowest value of respiratory rate when compared between the crossing. In conclusion, all genetic groups have at least three adaptive characteristics to the tropical environment when analyzing the physiological responses.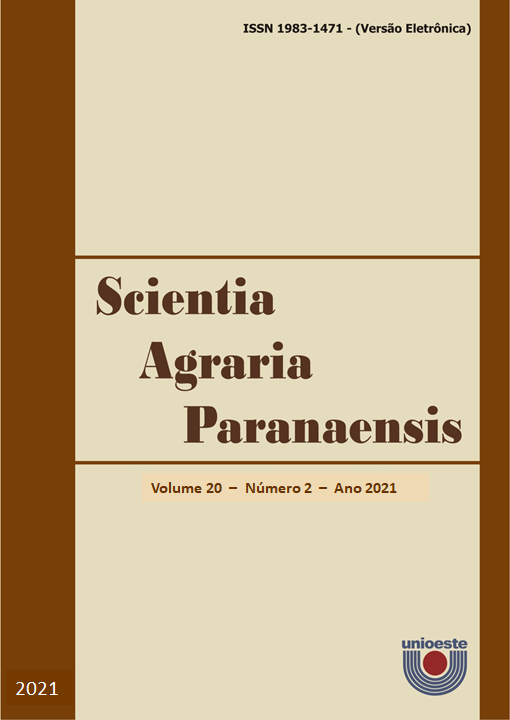 Downloads
Como Citar
PEGORARO MASTELARO, A.; SAYURI MIYAGI, E.; KARVATTE JUNIOR, N.; ROMEIRO DE OLIVEIRA MENEZES, G.; GUSTAVO MACEDO DE ALMEIDA MARTINS, P.; VILLA ALVES, F. Morpho-physiological responses of Bos indicus, Bos taurus and crossbred weaned heifers to seasonal variations. Scientia Agraria Paranaensis, [S. l.], v. 20, n. 2, p. 186–192, 2021. DOI: 10.18188/sap.v20i2.27040. Disponível em: https://saber.unioeste.br/index.php/scientiaagraria/article/view/27040. Acesso em: 26 maio. 2022.
Seção
Artigos Científicos
Licença
Aviso de Direito Autoral Creative Commons
Política para Periódicos de Acesso Livre
Autores que publicam nesta revista concordam com os seguintes termos:
1. Autores mantém os direitos autorais e concedem à revista o direito de primeira publicação, com o trabalho simultaneamente licenciado sob a
Licença Creative Commons Attribution
que permite o compartilhamento do trabalho com reconhecimento da autoria e publicação inicial nesta revista.
2. Autores têm autorização para assumir contratos adicionais separadamente, para distribuição não-exclusiva da versão do trabalho publicada nesta revista (ex.: publicar em repositório institucional ou como capítulo de livro), com reconhecimento de autoria e publicação inicial nesta revista.
3. Autores têm permissão e são estimulados a publicar e distribuir seu trabalho online (ex.: em repositórios institucionais ou na sua página pessoal) a qualquer ponto antes ou durante o processo editorial, já que isso pode gerar alterações produtivas, bem como aumentar o impacto e a citação do trabalho publicado (Veja
O Efeito do Acesso Livre
).
Licença Creative Commons
Esta obra está licenciada com uma Licença Creative Commons Atribuição-NãoComercial-CompartilhaIgual 4.0 Internacional, o que permite compartilhar, copiar, distribuir, exibir, reproduzir, a totalidade ou partes desde que não tenha objetivo comercial e sejam citados os autores e a fonte.